Read the open letter from journalists to Pope Francis here
Achtergrond
Four Catholic journalists from the Netherlands and Belgium ask Pope Francis to make the new Saint Titus Brandsma the patron saint of journalism. More than sixty international journalists signed their plea, as well as a journalists' association of 520 members.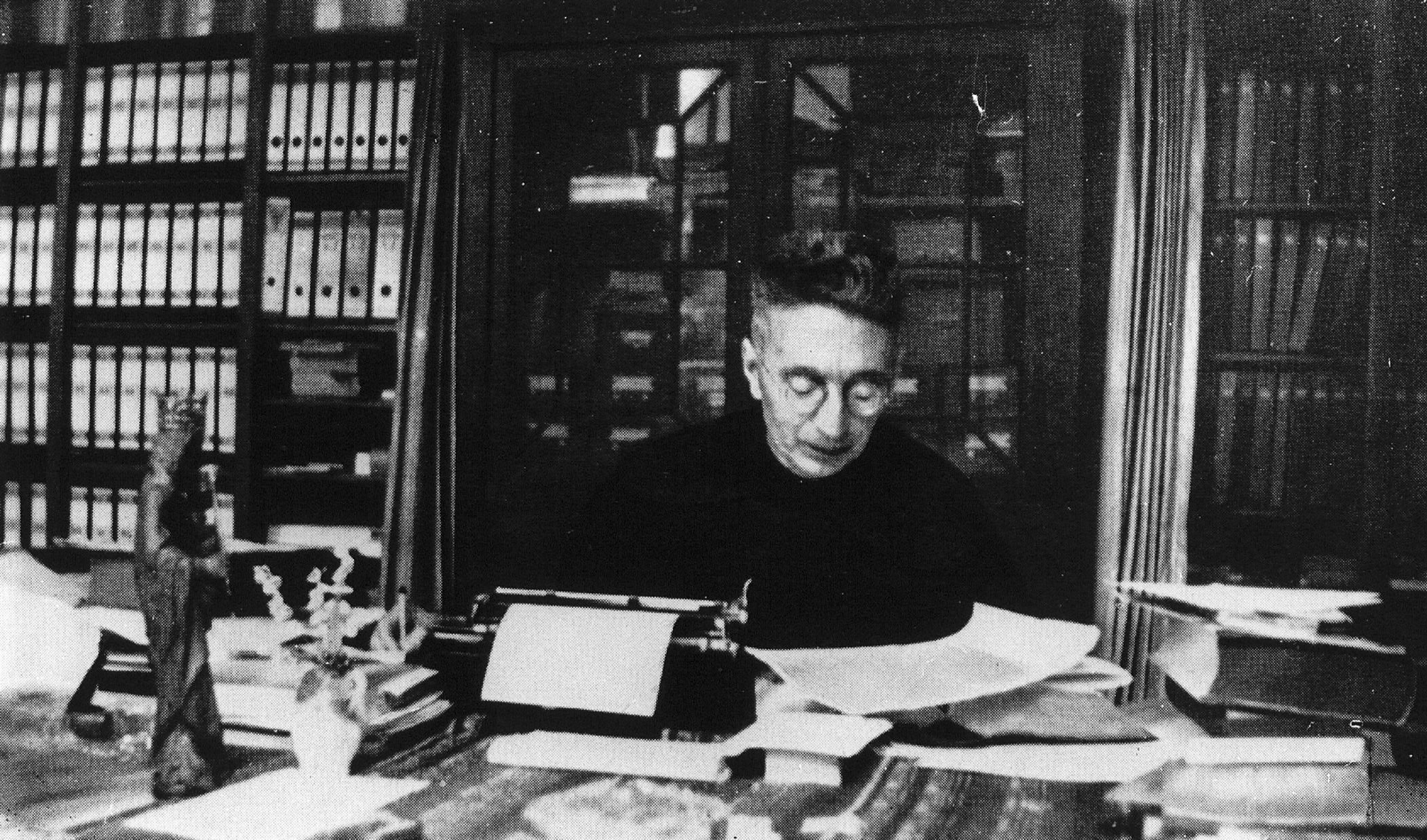 Your Holiness,
In 2018 you asked us, journalists, loud and clear, 'to promote a journalism of peace', a 'journalism that is truthful and opposed to falsehoods, rhetorical slogans, and sensational headlines. A journalism created by people for people, one that is at the service of all, (…) a journalism committed to pointing out alternatives to the escalation of shouting matches and verbal violence' ('The truth will set you free' (Jn. 8:32), Fake news and journalism for peace. Message of His Holiness Pope Francis for World Communications Day, 24 January 2018).
We wholeheartedly endorse your call to action and in it we recognize a mission statement for the whole of the journalistic enterprise: for old and new media, for editors of newspapers, magazines, radio and television stations, and internet platforms - and not only for journalists of Catholic origin, but for all journalists of good will.
On 15 May, in Rome, you will canonize a man who embodied these crucial journalistic values until his dying day: the Dutch Carmelite Father Titus Brandsma (1881 - 1942).
Titus Brandsma has meant a lot to the Catholic community in the Low Countries, but his journalistic work stands out among all his other activities. He was editor-in-chief of a newspaper, devoted himself to the modernization and professionalization of the Catholic daily press in the Netherlands, and strove for better working conditions and the establishment of a professional training for journalists.
Father Brandsma did his work in the context of the rise of fascism and Nazism in Europe. In word and deed he opposed the language of hatred and division that was becoming common at the time. In his view, what we now describe as 'fake news' was not to be tolerated in the Catholic press; he successfully argued for an episcopal ban on the printing of National Socialist propaganda in Catholic newspapers.
The commitment to truth and humanity is also extremely dangerous in our times of disinformation and polarization.
He paid with his life for this courageous actions: in early 1942 Father Titus was arrested by the occupying forces and consequently sent to the Dachau concentration camp. There, on July 26 of the same year, he was killed by an injection, on the Sunday that the Dutch bishops had their courageous protest against the deportations of Jews read out in all the churches.
We, Catholic journalists, recognize in Titus Brandsma a professional peer and fellow believer of considerable standing. Someone who shared the deeper mission that should drive journalism in modern times: a search for truth and veracity, the promotion of peace and dialogue between people.
We therefore see him as a friend and advocate for our entire profession, indeed a patron saint of journalism. We would therefore like to boldly ask you to make this patron saint's office official.
The current patron saint of journalism is Francis de Sales. He is undoubtedly a holy man of faith and of great merit, but he was not a journalist in the modern sense of the word. Titus Brandsma was.
And as we said, he gave his life for it. In our view, this makes him particularly suitable for this patronage. According to UNESCO, in 2021, no less than 55 journalists died worldwide while carrying out their work. Many more had to deal with violence, threats, repression, censorship and persecution. The commitment to truth and humanity is extremely dangerous in these times of disinformation and polarization. This urgently requires a holy intercessor who has experienced this personally - and passed the ordeal with flying colors.
We thank you for your kindness in considering this request.
Yours sincerely,
Initiators:

Anton de Wit, Editor-in-chief Katholiek Nieuwsblad (Netherlands)
Hendro Munsterman, Vatican correspondent, Nederlands Dagblad (Netherlands)
Emmanuel Van Lierde, Editor-in-chief and Vaticanist Tertio (Belgium)
Wilfred Kemp, Radio and TV presenter, KRO-NCRV (Netherlands)

Co-signers:
Valentina Alazraki, journalist Noticieros Televisa (Mexico)
Junno Arocho Esteves, journalist Catholic News Service (United-States)
Loup Besmond de Senneville, correspondent at the Vatican for La Croix (France)
Anita Bourdin, journalist ZENIT and Radio Esperance (France)
Giusi Brega, journalist LaPresse (Italy)
Jan Brouwers, freelance journalist (The Netherlands)
Maria Antonietta Calabro, journalist Huffpost.it (Italy)
Cristiana Caricato, journalist TV2000 (Italy)
Salvatore Cernuzio, Vatican-correspondent Katholiek Nieuwsblad en journalist at Vatican News (Italy)
Camille Dalmas, journalist I-Media (France)
Vincent Delcorps, editor in chief-director CathoBel/Dimanche (Belgium)
Charles Delhez s.j., former editor in chief Dimanche (Belgium)
Robin van Deutekom, journalist Nederlands Dagblad (The Netherlands)
Selinde van Dijk-Kroesbergen, webeditor Katholiek Nieuwsblad (The Netherlands)
Peter Doorakkers, journalist Katholiek Nieuwsblad (The Netherlands)
Filipe Domingues, journalist, O São Paulo newspaper (Brazil)
Luuk van den Einden, journalist Katholiek Nieuwsblad (The Netherlands)
Stefania Falasca, journalist and columnist Avvenire (Italy)
Eva Fernández, Vatican- and Rome-correspondent Cadena Cope (Spain)
Leo Fijen, director/editor Adveniat en television host KRO-NCRV (The Netherlands)
Thulio Fonseca, journalist and correspondent TV Canção Nova (Brazil)
Andrea Gagliarducci, journalist EWTN (Italy)
Filippo Di Giacomo, journalist Il Venerdì (Italy)
Alexey Gotovskiy, journalist EWTN (Italy)
Pierre Granier, journalist CathoBel/Dimanche (Belgium)
Christian van der Heijden, Vaticanist KRO-NCRV (The Netherlands)
Christophe Herinckx, journalist CathoBel/Dimanche (Belgium)
Michiel van Hout, filmjournalist Nederlands Dagblad and De Nieuwe Koers (The Netherlands/United Kingdom)
Ignazio Ingrao, journalist Tg1 Rai (Italy)
Antoine-Marie Izoard, director Famille Chrétienne (France)
Salvatore Izzo, director FarodiRoma.it (Italy)
Martin Janssen, Middle-East correspondent Katholiek Nieuwsblad (The Netherlands)
Andjela Jelicic Krajcar, Vaticancorrespondent HRT (Croatia)
Susanne Kurstjens-van den Berk, journalist Katholiek Nieuwsblad (The Netherlands)
Clément Laloyaux, journalist CathoBel/Dimanche (Belgium)
Christopher Lamb, journalist and author, Vaticancorrespondent The Tablet (United-Kingdom)
Benoit Lannoo, freelance publicist (Belgium)
Joan Lewis, special contributer EWTN (Verenigde Staten)
Manu Van Lier, journalist CathoBel/Dimanche (Belgium)
Vania De Luca, journalist Tg3 (Italy)
Jonathan Luxmoore, freelance journalist (United-Kingdom)
Ramon Mangold, press photographer (The Nederlands)
Carlo Marino, journalist European News Agency (Germany)
Javier Martínez-Brocal, Vatican correspondent ABC (Spain)
Mirticeli Medeiros, correspondent Dom Total in Rome and the Vatican (Brazil)
Carmen Monton Lecumberri, freelance journalist (The Netherlands)
Remco van Mulligen, journalist Nederlands Dagblad (The Netherlands)
Sara Nesci, journalist RaiNews (Italy)
Michela Nicolais, journalist Agenzia SIR (Italy)
Stefano Maria Paci, Head of the television news SkyTg 24 (Italy)
Francesco Paloni, journalist Katholiek Nieuwsblad (The Netherlands)
Francesca Paltracca, radio journalist Rai (Italy)
Maria Rita Pasqualucci, former journalist RaiNews (Italy)
Ludwig Ring-Eifel, editor in chief KNA (Germany)
Alicia Romay, journalist Huffpost / La Razón (Spain)
Enzo Romeo, editor in chief and Vaticanist Tg2-Rai (Italy)
Inés San Martin, Rome Bureau Chief, Crux (Argentina/Italy)
Christoph Strack, journalist Deutsche Welle (Germany)
Angélique Tasiaux, journalist CathoBel/Dimanche (Belgium)
Paola Testoni-de Groot, freelance journalist (The Netherlands)
Erik Thijssen, freelance journalist (The Netherlands)
Annachiara Valle, journalist Famiglia Cristiana (Italy)
Frederique Vanneuville, journalist Tertio (Belgium)
Hettie van der Ven, freelance journalist (The Netherlands)
Koen Vlaeminck, editor in chief Kerknet (Belgium)
Ludwig De Vocht, journalist Tertio (Belgium)
Andrea Vreede, journalist NOS News (The Netherlands)
Ary Waldir Ramos, Rome correspondent Aleteia.org (Italy)
Sylvie Walraevens, journalist Tertio (Belgium)
Group signature:
German Association of Catholic Journalists (Gesellschaft Katholischer Publizisten Deutschlands GKP, 520 members)